1975 Triumph T160 Trident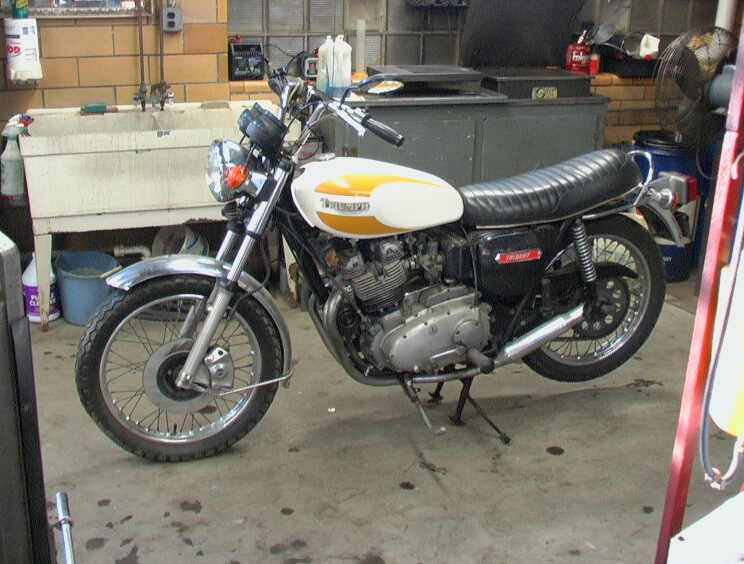 Photo Notes
To navigate through the full-sized photos, please click on a thumbnail below to enlarge it. Once the large version is up, you can go through the photos one by one by clicking the "Next" button in the upper right corner of the image or the "Prev" button in the upper left corner.

Please realize that the photos are showing the bike in its stored state, treated with protectants against rust, etc, and that it was not cleaned up and polished in order to accurately show its excellent original condition.
Storage Photos
This Original Triumph was stored in the Fall of 2000, and here are the first photos of it after being unwrapped in February 2009.

Please note that the chrome and other surfaces are dull due to a preservative sprayed on it back in 2000 before storing it away.































Shop Photos
These are additional photos of the bike taken the same day after it was carefully transported on a motorcycle trailer to the shop to recommission it and do a complete service and evaluation.



















































General Description:
This is a vintage 1975 Triumph Trident, complete in unrestored and unmolested condition!

This sought after classic has always been maintained by two top professional British bike mechanics in their respective cities (verifiable).

All older Triumphs are great bikes to collect and ride, but if you are reading this you already know that the triples are now one of the most desired models. And 1975 is one of the best years for the triple, especially with electric start. (Actually, this Trident started up on one kick after recently coming out of storage).

This particular T160 is quite rare in that it hasn't been neglected, nor rescued from the brink, nor chopped, nor driven into the ground, nor doctored up to sell. Actually with this triple, you are getting 3 bikes in one!
1. One you can take out now to enjoy the rest of the Fall riding season!
2. One you can mildly restore with a complete cleaning, detailing, and perhaps some polishing, and some minor things like a seat cover, paint touch-ups, etc.
3. One you can ride now to get to know better, and then plan for a complete restoration this Winter.
This bike has 18,224 original miles on it, and has the White with Cherokee Yellow Flash paint scheme, black frame, chrome fenders, and chrome wire spoke wheels. Please be aware that this bike has been in storage since 2000, and was just taken into a shop only to get completely checked over and started (one kick), and put in running condition for sale.

General Specs:
Engine: 3 cylinder, 750cc
Carbs: 3 Amal
Trans: 5-speed (left shift)
Brakes: Disc (F&R)
Start: Electric and Kick
Weight: 500 lbs.
History: 1975 - Late 80s:
This Trident was purchased new by the original owner from Broward Motor-Sports in Ft. Lauderdale, FL. The bike's mechanic at the dealership was Wes Scott, who later opened Wes Scott Cycles in Southern Florida.

In the late 80s I was checking with Wes to see if there were any good Triumphs that were coming on the market, and luckily this one had just turned up. If I remember correctly, it was being sold for the original owner by a friend, as the title he was holding hadn't been transferred yet. So essentially I am the second owner since the late 80s - somewhere around 1987-1989.

At that time it was in great running and riding condition, always garaged, and ridden only every few weeks, as even back then I didn't feel that the South Florida traffic was too motorcycle friendly!

During that time in Florida, Wes Scott Cycles did all of the normal service work - oil changes, filters, lubes, and adjustments, etc.
Prior Work:
After I got the bike, I brought it to Wes and started asking him what it needed and if there was anything I should do. He showed me that he had done the Lucas-Rita electronic ignition on it, and I believe that he said it already had "progressive springs" in front. Other than minor wear items, Wes' best advice was that a triple like this should be ridden frequently and enjoyed.
History: Late 80s - 1994:
During that time in Florida, Wes Scott Cycles did all of the normal service work - oil changes, filters, lubes, and adjustments, etc. In the summer of 1994, the Trident got to go to Wes Scott's for one last visit before being relocated to the Twin Cities in Minnesota.

Not knowing what we would find for British bike service in the North, I asked Wes to do as much as possible to make sure that the T160 was in the best order possible. This last visit to Wes' shop resulted in several shop tickets but nothing major (in terms of engine work, etc) was needed - just normal service and wear items.
Service Work: 1994:
The following items are from service tickets at Wes Scott Cycles in Florida in July - August of 1994 before the Trident was relocated to Minnesota (trucked, not ridden, although a road trip was considered).
Change oil and all fluids
Gaskets and filters
Lube and adjustments
New battery
Starter relay
Rebuild alternator (w/ HD 150 watt stator)
Plugs and minor ignition work
Rebuild carbs, jets, gaskets
Rebuild caliper with kit
New master cylinder
Stainless piston, caliper, and brake hoses
Turn signal flasher
Replace rear tailight lens
R&R minor rubber parts
New mirror
Complete engine, transmission, clutch, chain, brakes, bearings, wheels checked OK
Wes road tested one of his original Triumphs for the last time
History: 1994-1996:
In late Summer 1994, the Triumph was relocated to the Twin Cities in Minnesota. Although a major road trip was considered, the bike was transported carefully in an enclosed van. Some great Fall rides were made, and then the T160 was garaged for the Winter. Due to circumstances, the bike was not ridden in 1995 at all.
Service Work 1996:
In the Summer of 1996, a great British bike shop called Redline Cycles was discovered in Minneapolis to take the Trident to.

Again, the mission was to have them do anything needed to start the bike after sitting for over a year to make sure that everything was in good order. At that time, some of the services that Redline performed were as below:
Oils drained and replaced
Lubes and justments
Carbs cleaned
Throttle cable work
Turned gas petcock plate around
New battery
Started in one kick
History 1996-2000:
During this time the bike was located in Minnesota, ridden occasionally in the Summer, and garaged in the Winter. The gas tank was drained and the battery was on a trickle charger in the Fall.

Each Spring the T160 would start with just a kick or two.
History 2000-2009 (Present):
In the Fall of 2000, the bike was put into storage with the usual fuel draining plus other precautions, the chrome and other parts were sprayed with a rust inhibitor, and then the bike was covered and garaged.

Now, nine years later, the Trident has been taken out of storage and given a complete shop service to make sure that it is in good running condition to sell.


Service Check 2009:
This 2009 service has included the typical items as listed below:
Complete carbs rebuild
Fluids and filters
Lubes and adjustments
New plugs
New battery
Again, after 9 years and the above services, this Trident started on the first kick!
What It Needs:
This classic motorcycle has had the best service possible for the 20+ years that I have owned it.

It is in excellent original condition, however as with any almost 35 year old motorcycle, there is always the unknown factor. However, I can offer the professional opinion of two great British bike shops and they both say it is a solid bike.

Back to what it needs, there are only three things that I would do if I were able to ride and keep my Trident:
1. New Tires - I can't confirm it, but the tires may be the originals or else put on sometime in the first 10 years of the bike's life as I have not put on tires since I bought it. I did not have the shop put on tires now for two reasons:

a) I did not know what type/style the owner would want.
b) I did not want to drive the price up.

2. Complete Clean-up and Detailing - If I were with the bike I would be tempted to really get it all shined up for sale. But again, I did not know what the next owner would want, and also this could drive the price up. Also, I felt that having photos showing the bike "as stored" would help show the original condition accurately.
3. Ride and Enjoy - This goes without saying!
It's Only Original Once:
If you are looking for one of the best original Triumph Triples with a known history, and only professional maintained, look no further. Original condition is not a commodity that can be made - it has to evolve as in this fine example.
Bonus Items #1:
Included with the bike are the cone or megaphone styled mufflers. (You will see short pipes on the bike in the photos).
Bonus Items #2:
Subject to being able to find a box labled "Triumph Parts", you will also get the following items:
Oil cooler reflectors
New reflector rubbers
New gas tank rubber knee grips
New decals
Two helmets
Original underseat tool bag
Various manuals, etc
More Misc? (Can't recall)
Again, the above items will be included "subject to availability"! This means that as soon as the box they are in is located (between two states), they will be shipped FedEx Ground to the buyer at no charge. This could be anytime in the next 3-12 months (or not at all if not found), which is why it's a bonus.
Reason for Selling:
Currently, due to unforseen circumstances, I am not able to ride this classic motorcycle so it is time to find a good home with someone who appreciates and enjoys riding a classic Triumph Trident!
Local Sale Notice:
This bike will be advertised for sale locally in the Twin Cities, Minneapolis St. Paul area so that collectors and riders in the Central US will have a chance to own a classic bike without having to travel to one of the coasts to do so, or deal with costly shipping.

Therefore, the right to terminate this auction at anytime for a local buyer is reserved. However, the local price will only be the same as the "Buy It Now" price.
Disclaimer and Last Comments:
I have tried to be as accurate as possible, but cannot be held responsible for errors or omissions. The bike has been taken out of storage and put in the best possible running condition, however it is being sold "as is", and there is no warranty, guarantee, nor any implied...the same as with most classic vehicles.

As stated, the title is clear and 100% clean, so no problems there. I believe that the numbers match as well, and this can be verified if needed.

If you have further questions, please send me an email and I will reply within a few hours, or at least the same day. If you include your telephone number I will call you as well, as soon as possible. Normally I'm available 10 AM - 8 PM CDT.

The shipping details can be found in that section, but I wanted to add that if the buyer is in the Central US (somewhere from Minnesota to Texas), there may be a chance that the bike can be delivered if expenses are covered. Otherwise, it will be shipped via motor freight. I will assist you to make sure that it is drained, crated, and shipped properly, again at buyer's expense.

Please don't hesitate to contact me at any time with any questions at all.

Thank you for bidding on this classic Triumph Trident Triple Motorcycle!


For Further Information:
Please email sale@triumpht160.tntpowerhost.com for further information about this T160 for sale.